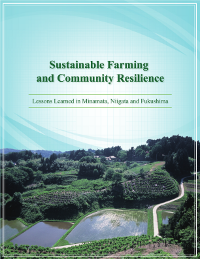 Copyright © 2013 CSO Network Japan, All rights reserved.
The events of March 11, 2011–the Great East Japan Earthquake and the Fukushima Dai-ichi nuclear power plant accident that it triggered–have provided us with a profound opportunity to reexamine our lifestyles and the path of economic growth that society has pursued until now.
This booklet was spurred by a desire to find the commonalities that exist between the ongoing nuclear disaster and Minamata disease, which emerged some fifty years ago in Minamata City in Kumamoto Prefecture and the Agano River basin in Niigata Prefecture.
Now would certainly seem to be the right time for us to gain a renewed appreciation of the value that is generated by agricultural, forestry and fisheries activities, and to shine a light on the potential that exists to support community development through harnessing local resources and fostering local industries. There is a new sense of hope for a new era of collabo ration among citizens, companies and researchers.
(excerpt from "Foreward")
Contents
| | |
| --- | --- |
| Foreword | Kaori Kuroda |
| 1. Lessons from the Niigata Minamata Disease Incident and the Fukushima Nuclear Accident: For Sustainable Farming and Local Societies WhereNature, People and Communities Exist in Harmony | Masanori Nonaka |
| 2. Life-Sustaining Food and Agriculture as Seen Through the "Fukushima Miracle" | Kiichi Nakajima |
| 3. Benefits of Ongoing Agricultural Product Testing | Makoto Ebisawa |
| 4. Creating an Age of Sustainable Coexistence with Nature through People Power and Farming Power: We will still sowing the Seeds of Hope | Seiji Sugeno |
| 5. What Minamata is Calling into Question: A Message from Niigata | Hideo Takano |
| 6. From Minamata to Fukushima | Kunio Endo |
| 7. Our Life in Minamata | Soji Takakura |
| 8. A Biodiversity-Based Approach to Community Development | Makiko Imai |
| 9. Creating a Society in Harmony with Natural Cycles: A Diverse Economy Based on Natural Capital | Koyu Furusawa |
| Postscript: Farming to change our communities | Tadaaki Oe |
English Full-text (PDF 11.9MB)
Contacts:
CSO Network Japan
Avaco Building 5th floor, 2-3-18 Nishiwaseda, Shinjuku-ku, Tokyo, 169-0051
TEL: (+81)(0)3-3202-8188 FAX: (+81)(0)3-6233-9560
Email: info@csonj.org URL:www.csonj.org