Community-based SMEs
Saga Prefecture

Case Study #1
Bringing people together through "Glocal" production to build the future
Tokunaga Porcelain Co., Ltd.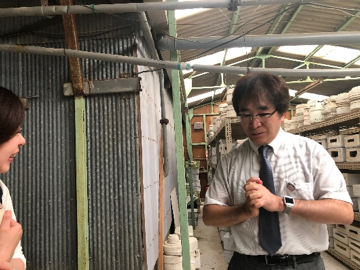 Tokunaga Porcelain Co., Ltd., was founded in 1865 in Arita, Saga Prefecture, and operated under the trade name "Kouraku.kiln," which was born from the idea of "happiness at home and fun at the table." Takanobu Tokunaga, president and CEO of Tokunaga, spoke of the company working on the succession of traditional techniques and the creation of new products according to the times, making use of the network as a kiln in the production area of traditional ceramics, and applying various inventiveness techniques.
Recognition from Hearing
Points and the necessary support for initiatives that lead to the improvement of sustainability of SMEs with close ties to the community
• Tokunaga's strong feelings have led to the development of new initiatives, the company is actively targeting large companies, including tourists and foreign investors, creating business opportunities. Strong commitment by management is very important.
• In addition to organizing relationships with the SDGs and other organizations to date, we believe that by organizing our various outstanding initiatives in a proper manner, in some cases involving third parties, we will not only strengthen information dissemination to the outside world and provide explanations to local stakeholders but also to strengthening information sharing and organizational power within the company as a whole.
Linkage with the SDGs
The business of Tokunaga Porcelain Co., Ltd., which is engaged in waste reduction through treasure hunting, ceramics manufacturing utilizing regional networks, creating new networks such as artist residence and car accommodation, active employment of women and foreigner workers, and environmental considerations, is an initiative that contributes to the achievement of the SDGs Goals 5, 8, 12, 13, 17, and other goals.
Hearing (Date: July 9, 2019: Hearing cooperation: Green prop Co.,Ltd.)





Corporate Information
Company name: Tokunaga Porcelain Co., Ltd.
Trading name: Kouraku.kiln
Date of establishment: 1963 (founded in 1865)
President and CEO: Takanobu Tokunaga
Head Office: 2512 Hei Maruo, Arita-cho, Nishimatsuura-gun, Saga Prefecture
Capital: 48 million yen
Business Activities:
– Tableware for business use
– Tableware for household use
– Reinforcing tableware for hospitals
– Design-oriented products
Number of employees: 18