Community-based SMEs
Tama Region in Tokyo

Case Study #8
We want to make everyone involved to enjoy happiness
K & AI Corporation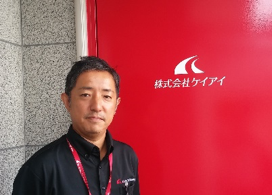 As a wheelchair manufacturer, K & AI Corporation emphasizes the creation of a corporate culture that flexibly responds to the wishes of customers and the needs of society, develops an in-house system, and creates a climate where employees can say what they want to say, while passing on the technologies and know-how cultivated over our long history. Nobutaka Kitajima, the third generation president, spoke about the company's business succession and future challenges.
Recognition from Hearing
Points and the necessary support for initiatives that lead to the improvement of sustainability of SMEs with close ties to the community
• Establishing a management philosophy and instilling it within the company is important to clarify and share goals in order to establish a sustainable organizational foundation.
• By sharing business status, it is possible to foster the proactive involvement of employees in the business.
• By actively utilizing the support of regional credit associations and government, access to information on human resource development and management is possible. For this purpose, it is also important to have a link between SMEs and support providers.
Linkage with the SDGs
K & AI Corporation's initiatives, including providing wheelchairs that adapt to social needs and our customers' wishes and creating an ingenious internal system and corporate culture, contribute to the achievement of goals 3 and 8 of the SDGs.
(Hearing Date: October 8, 2019)


Corporate Information
Company name: K & AI Corporations
Date of establishment: January 1955 (founded May 1936)
President and CEO: Nobutaka Kitajima
Head Office: 85-2, Okadomachi, Hachioji-shi, Tokyo
Capital: 16 million yen
Business Activities:
– Design, manufacture, sales, and repair of custom-made wheelchairs
– Sales and repair of various types of domestic wheelchairs and electric wheelchairs
– Sales of customized nursing care equipment and related products
– Production and repair of sitting retention equipment
– Rental of nursing care equipment based on the Public Nursing Care Insurance Law (rental of welfare equipment) Housing renovation work
Number of employees: 28